1969
Cfn.Douglas Borlace, KIA-1968.
---
This article was published in the ARMY newspaper at the time.
---
Named In His Honour
A Royal Australian Electrical and Mechanical Engineer, who was killed in action in SVN in 1968 has been honoured by RAEME soldiers.
The 106 Fd Wksp RAEME at Nui Dat has renamed its canteen and club after him, reports Capt Bob Cornish for ARMY.

The soldier was Cfn Douglas Borlace, who was serving with the LAD of A Sqn, 3 Cav Regiment.
He was travelling in an armoured personnel fitters carrier on Operation ALBANY, when it struck a mine, killing him and wounding two others.[15 July 1968]
At a short renaming ceremony recently, the OC 106 Fd Wksp, Maj C.L. Palmer, unveiled the plaque and officially renamed the club, "The Borlace Club".
About 130 soldiers attended the ceremony which was followed by a unit barbeque.
Cfn Borlace is one of the few RAEME soldiers to be killed on active service in SVN and he was honoured because the work he was doing is similar to that now being done by the unit.
The 106 Fd Wksp was formed from other RAEME units in SVN and was officially raised on November 1, 1968.
The unit wrote to Cfn Borlaces's next of kin, his foster sister, Miss Margaret Little, stating its intentions and seeking her approval.
In approving the scheme she told the unit in reply that she was delighted that he was being honoured in this way.
The plaque will hang in the club just below the Corps badge. Outside both entrances are signs bearing the new name of the club.
This signage was placed on the Club Roof
[Photo by Milton Pearson]
---
The plaque and signs were sent to the Corps Museum, RAEME Training Centre, Bandiana on the Unit disbanding in 1971.


Anybody who has personal knowledge of Cfn Borlace, or has a photo of him they would be prepared to lend for scanning might like to contact us. The intention is to write a document that rounds out his life. Although he was not a member of this Unit he will always be part of it.
---
Bob Killoran, 1970-1971, comments:
Doug was a regular soldier born 10 Jul 1944, joined the Army on 29 Dec 1961.
He was posted to RAAC 12 Apr 1962 as a trainee driver/sig and then posted 1st Armoured Regt on 20 Aug 1962.
He took a Corps transfer to RAEME as an Adult Tradesman and attended the 3/65 Vehicle Mechanics (VM) Course between 29 Sep 1965 and 13 Sep 1966.
Doug was posted to 1st Armoured Regt LAD as a VM on 14 Sep 66 and allocated to A Sqn 3 Cav RAAC, South Vietnam.
I recently spoke to Gerard O'Neill (This email address is being protected from spambots. You need JavaScript enabled to view it.) He remembers well, the incident in which Doug was killed.
He says Doug was out on a familiarisation trip, not in a Fitter's Track, but an M113, 30 Bravo, Sgt Fogarty's Troop, of the Cav's A Sqn. Gerard was the driver.
They were travelling through thick scrub at the Long Green at the time. Doug was sitting on the rear hatch. Gerard remembers a double explosion and shrapnel rattling around the rear deck. He suspects the detonation of a tree mounted mine or something similar.
The Grave and its Re-dedication -- 23 Jul 03
As a result of SA RAEME Association approaches, arrangements have been made to replace the War Grave Commission plaque on Douglas Borlace's grave stone with a more appropriate one. The local paper, The Courier, reports the details in this article:
New dedication for Vietnam
soldier killed in action.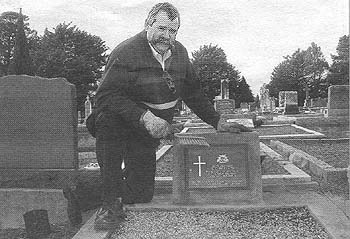 Royal Australian Electrical and Mechanical Engineer association member Bob Killoran at the grave of Vietnam veteran Douglas Borlace that will get a new plaque with the wording "killed in action" added to it. BELOW: the current plaque in the Stirling Cemetery at Aldgate, SA.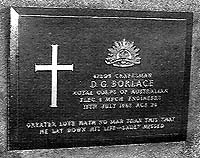 A Bridgewater soldier who was killed in the Vietnam War is to have an appropriate plaque placed on his grave in the Stirling Cemetery at Aldgate.
The recognition for Douglas Borlace has been made possible by fellow Vietnam veterans who have worked towards having the words "killed in action" inscribed on the plaque.
Mr Borlace was a Craftsman in A Squadron 3rd Cavalry Regiment Light Aid Detachment.
A mechanic by trade, Mr Borlace was a passenger in an armoured personnel carrier that ran over a mine during a reconnaisance mission in July 1968
He was a member of the Royal Australian Electical and Mechnical Engineer (RAEME) Corps and had a service plaque on his grave, but the wording,"killed in action" was inadvertently omitted.
His fellow RAEME mates wanted the error to be put right and contacted family members, the War Graves Commision and the Adelaide Hills Council in their endeavour to get a new plaque.
RAEME Association member Bob Killoran said Mr Borlace's friends, family and members of the community were pleased that the correct information would now be on the grave.
"We wanted to keep his memory alive and show respect for his sacrifice in the proper way," Mr Killoran said. "The plaque will be dedicated in Doug's memory in the spirit of Lest We Forget".
A foster child of Margaret and Kevin Little, formerly of Bridgewater, Mr Borlace was the eldest of four children.
He attended the Bridgewater Primary and Oakbank Area schools, and enlisted for active service in December 1961.
A dedication service for Mr Borlace will be held at the Stirling Cemetery on Sunday, August 3, at 2pm.
Report on the Re-dedication -- 3 Aug 03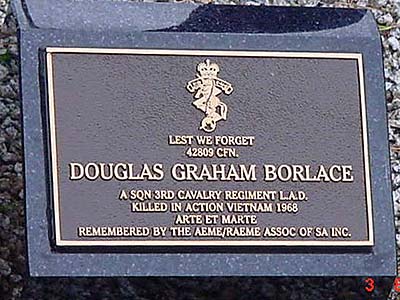 The day of the very moving re-dedication was overcast and blustery.
Forty took part on the occasion of this tribute to Doug Borlace with the KIA plaque attached at last to his head stone.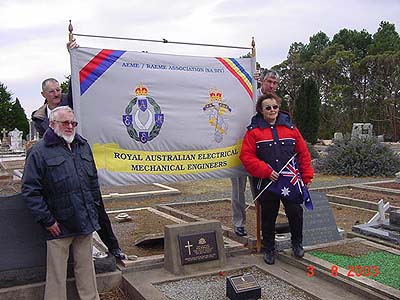 Doug was fostered by the Peacock family. When his foster parents died, his foster sister, Margaret, became his foster parent.
This photo shows the Association Banner with Margaret Little (nee Peacock) at right front and her husband Kevin at left front.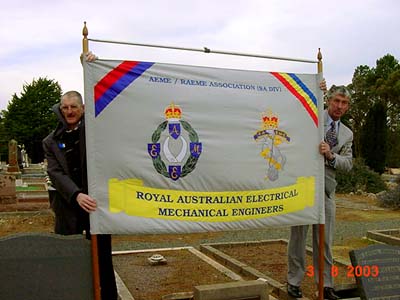 The Banner Party, left to right, David Turner, Assn Secretary (ex Sgt ARES), and Mike Culley, Assn President (ex 1Fd Sqn Wksp,Nui Dat).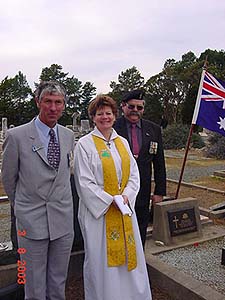 Padre Catie Inches-Ogden (att 9CISB Warradale) with Mike Colley on her left and Bob Killoran (ex 106 Fd Wksp, SVN) on her right.
Andrew Barnett, AAB-A
40th Anniversary Memorial Service -- 19 July 2008
Pictures courtesy of Margaret & Mike Culley.
(Mike was a C Vehicles Mechanic with 1st Fd Sqn RAE, RAEME att. Wksp)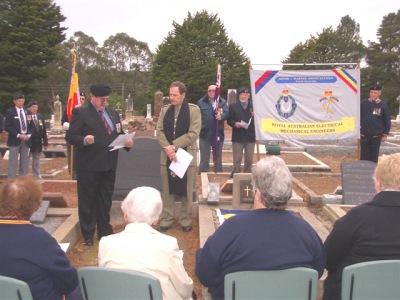 Bob Killoran delivers an eulogy and a brief account of Doug's career in the Army. Padre Mike Folland on the left delivered a moving service; members of REME/RAEME Assoc. in the background.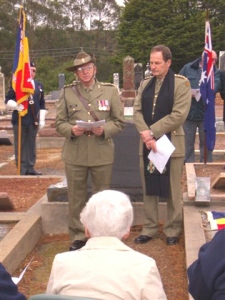 Colonel Commandant of SA Greg Rosser reads The Ode.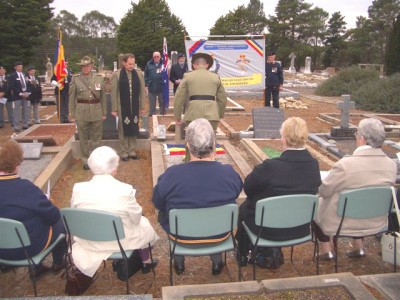 WO2. Grant Kuchel, President AEME/RAEME Assoc. SA lays a wreath.
The President of REME Asoc. SA lays a wreath.
Last Post - Lest We Forget (WO2. Al Kidney on bugle).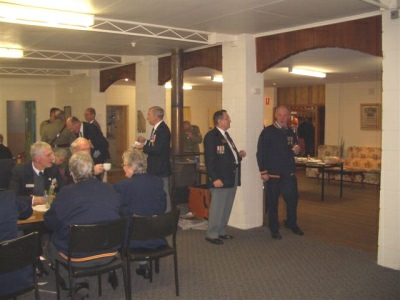 Post Memorial Luncheon at the Aldgate RSL
Douglas Borlace - Rest In Peace.
ADDED 2019: RAEME Craftsman Magazine Article P18-19.
---