1969
L/Cpl Charlie Goloski
Milton C. W. Pearson, CSM, 106 Field Workshop, 1968-1969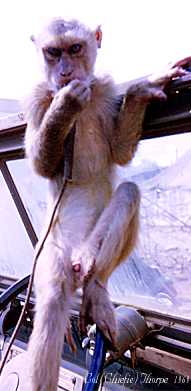 He was lovable one minute and ready to bite the next. He was always causing trouble and was so erratic that Dick Sansbury, from the Recovery Section had to be assigned as his off-sider.
"Charlie" was very inquisitive and his mischief often began in the soldiers recreation tent. Charlie could open a VB, raid cigarettes, shimmy up tent poles and even urinate on those giving him a hard time from the lofty heights of the tents frame work.
But "Charlie" was fierce and never took a backward step. When Ray Hayward did the laundry run into Baria he would take Charlie with him. "Charlie" made sure no Vietnamese came near his landrover whilst he was carting soiled JG's and collecting the clean greens.
Sadly, one day "Charlie" took an overdose (of pain killers). He was rushed to Vung Tau but could not be revived. The OC, Claude Palmer afforded Charlie a decent burial next to the unit flagpole.
"Charlie" was a monkey and the Unit mascot. Many members in the early days of 106 could tell a tale or two of this famous L/Cpl, or, should that be infamous.
Before I had left 106, "Susie" arrived as the Unit mascot with Bill Slegers as her handler. This monkey was definitely a biter.
---
Charlie Chase comments
In respect of all the stories about Susie Galoski which I read, it only mentions Bill Slegers.
I wish to point out that I bought "Susie" from a local at the wood dump outside the base by swapping a transistor radio for her. This was shortly after "Charlie" had died. I looked after her for a short time before she was looked after by others and I left country.
---