1969
Going to Town
Gerry LLoyd, 1968-1969
---
A chance to get out of the Task Force area was always a bonus.
It may have been as simple as riding "shotgun" on the laundry run to Baria. When I first saw the hut made of flattened beer cans where our washing was done I smiled, as out the back was a water buffalo sloshing through a quagmire of mud; I imagined this was the way our jungle green's may have been washed.
Another way to get out of the Task Force area was a Sunday swim trip to Vung Tau . This town also had some exciting waters for the enthusiast. The beaches were roped off into Australian,American, Vietnamese etc. but when you entered the surf you were all in the same water. The Aussies had their own Surf Life Saving Club and you could borrow surfboards and boats as well. I only went swimming in the sea once and saw a banded sea snake; that was enough.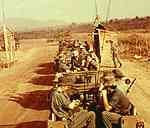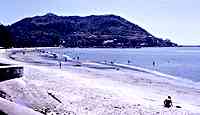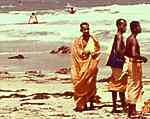 Once on the Vietnamese beach some Buddhist monks burned themselves to death very casually. I had seen this once before in Saigon but not as close. The funny thing is not a sound came from them at all. Some bystanders tried extinguishing them with sand but whatever accelerant was used was very combustible.
From then on I swam at the pool in the Badcoe Club area which seemed quite safe in comparision.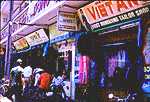 1ALSG(Australian Logistic Support Group) was the main allied unit in Vung Tau but there was an air base and hospital as well. Sometimes I ventured to the shopping precinct in town and other times just took photos of unique buildings and places. The town had been a French resort before the war and was very French in a lot of ways; from the buildings to the language.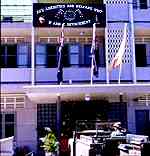 Their was also a good opportunity to check out the new supplies at the PX(Post Exchange) these outlets bought in duty free radios, stereos,cameras, cigarettes you name it, and were very popular shopping areas. Near "The Flags" the drop off point for us Aussies in the centre of Vung Tau you could get "reel to reel" tapes copied from any record you requested,basically you could buy anything on the street's but had to be ever watchful for pickpockets as well.
I always felt much safer back at 106 Field Workshop as you knew what was in the water and the food.
---