1970
IT'S TOUGH TO BEAT PAR AT NUI DAT
---
WO2 P. Perry,
Art Instr
Peter Perry writes "I have finally found a copy of an article that appeared in "The Melbourne Sporting Globe" on 18th Nov 1970. It humorously outlines how the golf course evolved in 1970. N.B. (In the article) Major Nolan was not demoted, it's just that the reporter thought that a Captain (Golf Club Capt.) was higher than a Major."
---
A young Australian soldier was resting on his stretcher at Nui Dat in Vietnam when, suddenly, there was a "thud" on the tent roof.
"What the hell was that?" he yelled, as he raced outside.
It was a natural reaction to think Viet Cong had infiltrated the Australian lines and thrown a grenade which hadn't exploded.
More could be coming! Much to his relief, it turned out to be a golf ball.
The soldiers from 106 Field Workshop Unit had started play on their six - hole golf course at Nui Dat Base.
"I'll never forget the surprised look on that chap's face when he saw us standing there with golf sticks in our hands" said Peter Perry of Broadmeadows. "Some of the words he let go are unprintable".
Peter, who plays off a handicap of two at Medway, designed the course which would be the most unusual in the world.
A Warrant Officer in the regular Army, he's now back in Melbourne. "When I arrived in Vietnam, the boys kept asking me was I going to build a course," Peter recalled.
"After a chat in the mess hall with Sergeant Bill Bowden, who's now recovering in the Adelaide Repatriation Hospital, we decided to ask permission to go ahead."
HELPER
Their commanding officer, Captain Alan Nolan of NSW, also pitched in and helped lay out the sand scrapes.
They had a few obstacles to overcome when clearing ground for fairways and tees.
Peter Perry putting
The jungle grass was six feet high and in there lurked cobras and kraits - two of the most deadly snakes.
There were also weapon pits, armoured vehicles, banana trees, tents, a makeshift Go Kart track and a football oval to avoid.
It was finally finished last May, Corporal Ian Campbell, a member of Bandiana Golf Club in North Eastern Victoria, was appointed honorary curator.
"We joked about the naming the course Royal Nui Dat or Nui Lakes Country Club, but when I left nothing had been decided," said Peter
He wrote a letter to Wal Williamson, president of Medway Golf Club, requesting help to obtain golf equipment.
Mr Williamson scouted around and managed to collect 29 secondhand clubs.
Royal Melbourne Golf Club donated another 20 clubs and 100 old practice balls.
But there was still one snag. Sgt Bowden was a left-hander and the clubs sent were right.
So, he made himself a club from an old hand grass-cutter by knocking off the blade and welding on a homemade club head. It had a wooden handle and steel shaft.
The mongoose which prowled around the camp also helped, by killing off the cobras and kraits.
Beach sand for the greens was trucked from Vung Tau about 20 miles away an Australian support unit was stationed.
Just to give an idea of the course and the unusual hazards here's a run down on the card.
" The first hole 85yds., par 3, from the tee they hit over a volleyball court.
" 2nd, 197yds., par 4, dog leg to the left with jungle grass six feet high on left of the fairway and, on the right, diggers' tents. If you slice a ball you're "dead".
Corporal Richard Dickson, from S.A., put a ball in a hot water tank on this hole and it's still there.
HAZARDS
" 3rd, 142yds., par 3, on the left there's a high mound of dirt from weapon pits and you hit over a makeshift football ground with a deep water hole 10 yards from the green. The green is surrounded by a small banana plantation and armoured vehicles are parked just behind the water hole.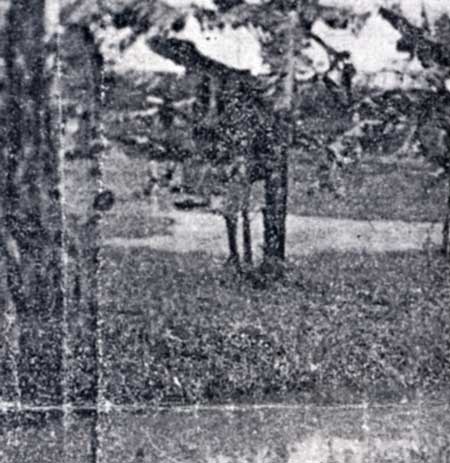 Third Green
They play the same holes again from different tees with the 4th (150 yards), 5th (175 yards) and 6th (73 yards) all par 3.
There's a gun club over a water hole behind the first tee and on Sundays pellets are falling in the water as they tee off.
They also must be careful hitting over the Go Kart track on Sundays which operates during the rest period.
But some great shots have been played, regardless of the distractions.
Craftsman Peter Cowley, a National Serviceman from S.A. scored the one hole-in-one when he aced the first.
Peter Perry holds the course record with a 61.
Peter has been sent home with back trouble. Once he's recovered it's back to golf at Medway where he hopes to gain a place in their 2nd Division VGA pennant side next year.
He hits an extremely long ball.
Before going to Vietnam, Peter was Darwin Golf Club champion in 1966 and 67.
In the 1966 final at Darwin, in which he beat, Jim Kuskey 3 and 1, Peter aced a 281 yards, par 4.
In the meantime, Peter has left something for the diggers to relax on - a golf course.
The boys from 106 Field Workshop Unit and the Armoured Regiment in Nui Dat are among the keenest golfers I've ever heard of.
And who knows, a full - sized golf course could grow on the very site where they have this unusual little layout.
There's a large village at Hoa Long about half a mile away and even when the Vietnam War finishes Australia will probably always retain a military force at Nui Dat to police the area.
"The Melbourne Sporting Globe" - 18th Nov 1970.
---