ANZAC Day - 2007
A Report from Adelaide
Bob Killoran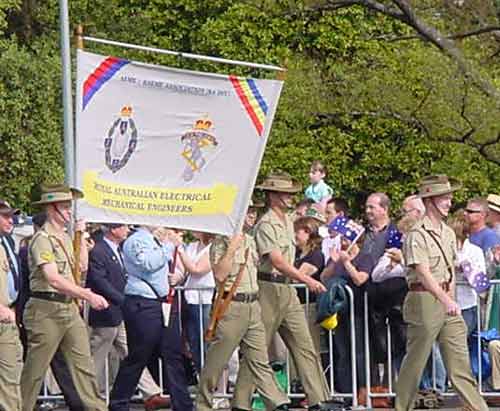 Lead by Major Patrick Murray OC Support Battery 16 Air Defence Regiment Woodside, the good looking dynamic blokes from the AEME/RAEME Association of SA Inc
March of the Crafties starts in Pulteney St Adelaide heads North then chucks a leftie into North Terrace past the SA National War Memorial then a right into King William Rd heading North again past the South African War memorial to the Garden of Rememberance.
Single photo is of yours truly looking stuffed, other 106 people in the march were Frank Owen, Jack Horner, Ollie Wauer but no clear photo exists of these uglier people. Also in the photos are AJJ Lee(C Sqdrn 1 Armd Regt) Bob Davis RAEME Attached 3 RAR. Yes Pat Murray is leading, he has just been posted to SA as OC Support Battery 16 Air Defence Regt Woodside.
The AEME/RAEME Assoc is allocated a position in the WW2 section so a lot march with VVA and other Vietnam Units to get in the period re Vietnam. Also a lot in photos are non Vietnam soldiers and a couple of WW2's. The soldier on the left banner pole is WO 2 Grant Kuchel (pronounced kookal) state president of our AEME/RAEME Assoc currently EME WO at Warradale ( 9 CSSB or whatever they are these days)
Forming Up
Marching Off
Regards to our crafties every where,

Bob Killoran
Treasurer AEME/RAEME Assoc of SA Inc.