Foundation & Allocation | 106 Field Workshop
Memoirs of a Proud Unit*
"ARTE ET MARTE" - 'With Skill and Fighting'
The armourers, accomplishing the knights,
With busy hammers closing rivets up,
Give dreadful note of preparation.
(King Henry V. Act iv. Prologue)

SOUTH VIETNAM: 1968 – 1971
Foundation
106 Field Workshop, RAEME was added to the Australian Army Order of Battle (War Diaries) on 14th October 1968 as a reinforcement for the 1st Australian Task Force (1 ATF), a brigade sized fighting formation, whose primary Area of Operation was Phuoc Tuy Province, Republic of South Vietnam (SVN).
The workshop was raised in response to an urgent need to improve battle worthiness and damage recovery of the 1 ATF's fighting equipment and became operational on 1st November 1968, taking over from 1st Armoured Squadron Workshop RAEME. The workshop and Unit lines were located at the 1 ATF's Operational Base at Nui Dat sited alongside the Centurion tanks and the unit lines of C Squadron 1 Armoured Regiment.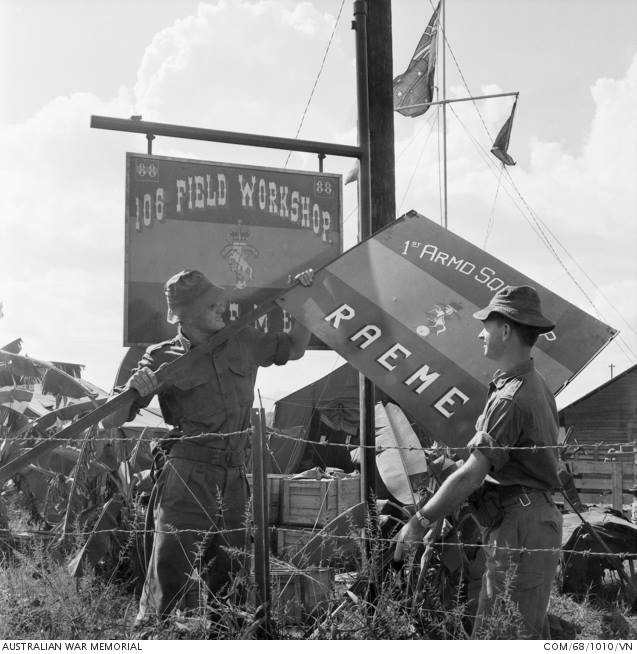 ["Nui Dat, South Vietnam. 13-11-1968. At the 1st Australian Task Force (1ATF) Base members of the 106th Field Workshops, formerly known as the 1st Armoured Squadron Workshops, attached to C Squadron, 1st Armoured Regiment, responsible for the maintenance of the squadron's 52 ton Centurion tanks, replace the old sign with a new one. The job had not changed but their unit officially became a Royal Australian Electrical and Mechanical Engineers (RAEME) Unit. Craftsman Doug Kerr of East Fremantle, WA (left), and Craftsman Ted McCamish of Bunbury, WA, remove the old sign after erecting the new 106th Field Workshops sign." Image & Text, © AWM]
As part of the Australian forces withdrawal from SVN, the unit returned to Wodonga, Victoria on the 1st September 1971.
Who We Were
A Unit comprises those who served and a Unit finds success and wins respect in the strength, conviction and sacrifice of its compliment. 106 Field Workshop was just such a Unit during its operational service in South Vietnam.
545 men from four Corps served in 106 during its deployment on active service in South Vietnam. They were regulars, national servicemen and reservists with engineering skills from all walks of life. Most were from the Royal Australian Electrical and Mechanical Engineers (RAEME) but were supported by fellow soldiers from the Royal Australian Army Ordnance Corps (RAAOC), the Royal Australian Army Medical Corps (RAAMC) and the Australian Army Catering Corps (AACC).
As engineers, their primary mission was to ensure that arms and equipment were sufficiently battleworthy to enable 1 ATF to successfully conduct its operations. This included recovering damaged equipment from the battlefield. The workshop operated from its well-established repair facility in the 1 ATF Operational Base at Nui Dat. From this base the workshop also deployed forward repair teams and recovery elements throughout the Task Force Area of Operations as needed to support fighting echelons.
Despite being manned by 'Service" personnel, 106 fulfilled its combatant duties when:
reinforcing Task Force Operational Base defence sectors depleted as a result of the forward deployment of the 'Arms' units
allocated the defence of Forward Operation Bases for units otherwise engaged
actively tasked in the conduct of reconnaissance and fighting patrols as part of the 1 ATF Area of Operations patrolling program.
106 is proud of what the men achieved. It was done with a lot of heart, sweat and sacrifice and with great regard for those supported. For the men who served in SVN, it was a unique and bonding experience. From whatever background and whatever fate has dealt each since that time, the men of 106 remain united as comrades, altered for all time by this shared adventure.
On the SVN pages of this Website you can see the records and experiences of that era. This includes:
The other SVN sections are made up from contributions from Unit members in the form of stories and photos. The Unit Album for 1971 is also published in the 1971 section.
Please explore the proud history of the men of this period and if you are one of the 545, please contact RAEME Assn. Qld.
[ See here for more info about the 'beginnings' 106 Foundation and for additional info, see 106 Alternate 'beginnings' for more info.]
AFTER SOUTH VIETNAM (SVN)
1971 – 2013 : 106 Field Workshop (SVN) returned to Wodonga, Victoria on the 1st September 1971 where later it was disbanded. 106 Fd Wksp RAEME was re-raised at Coopers Plains, Brisbane, then moved to Enoggera, where the unit was reorganized as an ARA/ARES unit, 104/106 Wksp Coy.
2013 – 2014 : The demise of the workshop has come full circle where in 2013 it reacquired its officially recognized designation of 106 Fd Wksp; not as an independent unit , but as a sub-unit within the larger logistics entity, 7 Combat Services Support Battalion (7 CSSB) whose role is to support the 7th Brigade (7 Bde) a Brisbane based ARA/ARES motorised fighting formation.
This website is dedicated to: comrades who have died; those who gave their love and support; the children and grandchildren and all those who might tread a similar path in service to the Corps, the Army and the Nation.
* Memoirs of a Proud Unit, updated 17 October 2014, is a revised version of the original article first published in the SVN pages. The revision has been made consistent with our objective to broaden the 106 Association into general membership without forgetting the Unit's unique origins in a war zone. The original, un-amended article, (with images), can be read on the SVN pages of 106.
[ Original Article: LtCol (RL) John Sinclair; OC 106 SVN, Foundation Member, Life Member (deceased); Amended Article: LtCol (RL) John Strachan; Foundation Member, Association President (2014) ]