1968
The Beginning
John Strachan, QM of 106 Field Workshop, 1968-1969
In 1968 I could not have forecast what would befall me when, as newly commissioned National Service Officer with the rank of Second Lieutenant (Probationary), I was posted to Bulimba, Brisbane, as the nominal Adjt/QM of 301 Fd Wksp (with Maj John Sinclair as the OC for a short period, followed by Maj Norm Hicks-Hall). As I was the QM without any unit time experience, I was sent on the Quartermaster's Course at Canungra.
In quick time
I was advised of a posting to a new workshop to be raised in South Vietnam and I soon found myself back at Canungra at the Jungle Training Centre negotiating forced marches and the Confidence Course on the Battle Efficiency Course along with my OC.
After a spot of pre-embarkation leave, I was on a plane to Sydney with Norm Hicks-Hall where we linked up with Capt Bob Stuart.I benefited from some serious lessons on how to pass waiting time in the Mess and various Sydney night spots.
Then in mid October, 1968, I climbed on board a Qantas flight with my two "instructors" ..destination .. Ton Son Nuit Airport, Saigon , Republic of South Vietnam
I had been pitched into the Quartermaster job of 106 Field Workshop RAEME, -to be raised as part of the Order of Battle of 1 ATF, Nui Dat - with Major Norm Hicks-Hall as the OC and Capt Bob Stuart as Adjutant
At COMAFV, the Australian Force Headquarters Saigon, meeting up with Lt Jimmy Hislop who was on the EME Staff of the Headquarters and who was slotted to be the Platoon Commander of No2 (General Engineering) Platoon, we went into our first serious planning conferences
When we arrived in Nui Dat, we were lodged with C Sqn, 1 Armd Regt until we got our own facilities. We were joined by a Kiwi officer, Capt Don Baker, RNZEME, who had been on the staff of HQ 1 ALSG, Vung Tau and was the Platoon Commander of No1 (Vehicle) Platoon. The Stores Section Commander, Lt Graeme (Sluggo) Stevens, RAAOC, arrived a week or so later
Other members of the command staff did not arrive until late into November 68 and as late as February 69. These included the Workshop Manager and 2IC, Capt Russ Barker, the ASM, WO1 Col Philp and the CSM, WO2 Milton Pearson.
Much of the new Unit's resources were to be drawn from 1 Armd Sqn Wksp which was to be disbanded leaving a light aid detachment with the armoured squadron
For me, it was a case of learning fast on the job and clinging, as best I could, to a steep learning curve. It was not just setting up the accounts and ordering, receiving and distributing everything needed for the new Unit to operate in a Theatre of Operations, but quickly coming up to speed with the wheeling and dealing to get what we were entitled to, and what we weren't necessarily entitled to but needed to live and operate. There were many things to be done that were not mentioned in the QM's manual or even thought about on the QM's course at Canungra.
Capt Brian Coulter commanded 1 Armd Sqn Wksp. Brian had been very happy with his own command and cherished his black beret, living and working with the RAAC. The same could be said of the men under his command. They were somewhat disappointed that their domain was being merged into the new unit. Who could blame them as they had performed their task so well
It was very important that the reorganization was seamless so as not to leave the tanks without adequate repair and recovery support, so Brian and his senior staff, like Lt David Catterall, RAAOC and CSM, WO2Laurie Lilley, got on with the job of helping to get everything organized including the integration of his men into the new organization. In effect they were the in-place Advance Party and we owed them a lot for both their planning and the physical work tasks undertaken
106 Field Workshop was not entirely the addition of EME resources to the Theatre of Operations. Much of the resources were already in place but, it was decided, needed to be reorganized to meet the increased level of repair demanded by 1 ATF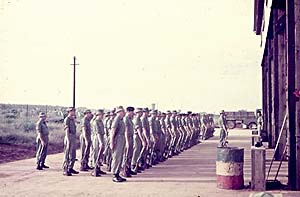 Manpower

Initially, strength was transferred from 1 Armd Sqn Wksp but some was drawn from LADs and various EME Detachments as their tasks now passed to the new workshop
Some manpower was posted in from Australia including the additional Artificers and senior tradesmen needed to manage the step up in repair levels and capacity

Equipment

The field repair equipment of 1 Armd Sqn Wksp was handed over
Mobile equipment, in the form of machinery loadings, were held by102 Fd Wksp RAEME, the field workshop on the strength of 1 ALSG. This workshop had by now been established as a static workshop. With the advent of 106 to handle the repair and recovery support for the major battle equipment of the Task Force and general field support throughout the Task Force Area of Operations, this equipment and the specialized test and repair equipment for the major battle equipments were transferred to us.
Additional equipment including Fitters APCs, Recovery Vehicles and tilt bed trailers, generators, welding equipment, machine tools, tradesman tool kits etc. were sourced from 1 Advanced Ordnance Depot at Vung Tau, the US supply organizations at Long Bien and directly from Australia.

Repair Parts

Concurrently, 1 Armd Sqn Wksp Stores Sect RAAOC was disbanded and 106 Fd Wksp Stores Sect RAAOC was raised. This new unit immediately commenced an up-scaling programme to support the expanded repair functions of a Field Workshop.

Facilities

We took over the compound and facilities occupied by 1 Armd Sqn Workshop.
Not only were the facilities insufficient for the new Unit, certain support, messing for instance, had been supplied by the Armd Sqn
Although some excellent workshop facilities,such as the high lift shop for armoured vehicle repair, were on site, we were critically short in just about every area; repair sections, store houses, command and control and administration, messing and living accommodation, and of course the Command Post, Strong Points, and other defence works. Since the compound was sited on a slope, it was even necessary to construct 2 metre deep monsoon drains.
We set to with the command element of the Armd Sqn Wksp and the men who came on strength to tent up the Unit, sandbag it, dig the defences and create the ablutions and waste management. We were going to be on this site for the foreseeable future. We had to be careful about how we went about it.
The more "permanent" structures to house new workshop repair elements, the workshop control office, stores element, repair parts storage, Q Store, administration, ablution facilities and messes were some time in coming. A timely visit by the COMAFV, Maj Gen MacDonald, from Saigon in early 1969 was soon followed by a flurry of activity from Construction Squadron Engineers to put these facilities in place. This phase completed the embedment of the workshop at Nui Dat without limiting its ability to deploy repair groups to forward operational areas as required.
On 1st November 1968 a parade was held on the apron of the "Opera House" (the armoured vehicle repair shop) to mark the disbandment of 1 Armd Sqn Wksp and the raising of 106 Fd Wksp
Although we were hamstrung by the pressing need to build our site, operational support of C Sqn,1 Armd Regt and A Sqn, 3 Cav Regt continued in full throughout the establishment phase. As well, some operational field repair and recovery support was provided other 1ATF units before the workshop was fully equipped and manned.
Although we were still living rough, the process of administrative organization and equipping was well in place by January/February 1969 when Maj Hicks-Hall, on promotion to Lt Col, was posted to COMAFV, Saigon as the Assistant Director Electrical and Mechanical Engineers (later equivalent, SO1 EME). With Maj Claude Palmer assuming command, 106 Fd Wksp effectively commenced full support all 1ATF operational units, providing repair and recovery support throughout the 1 ATF Area of Operations.
106 Fd Wksp, once manned and with its facilities largely in place, did not take long to establish its presence in 1 ATF.
In conjunction with EME policy from COMAFV, Saigon, programmes were commenced to improve equipment serviceability generally within 1 ATF units. There was never any shortage of repair load.
Battle damage recovery, general recovery tasks and Forward Repair Team tasks became a routine part of life. The first major deployment from Nui Dat for 106 was undertaken from 17 February to 20 March 1969 when the Task Force deployed to FSB Kerri controlling the approaches to Saigon from the North West during Tet. 106 deployed an FRG (Forward Repair Group) to an Advanced 1 ATF Logistic Support Area sited at the Long Binh Airfield.

From February, the Unit provided patrols from Platoon to Section size in support of the 1 ATF TAOR Patrolling Program and to secure base and forward support base areas for arms units deployed elsewhere.
The workshop was involved in the testing of a driver protection up-armouring solution for APCs in theatre and later completed a round-the-clock priority project to get all 1 ATF APCs up-armoured for on going operations.
Soldiers were required to work long hours as the situation demanded. We refreshed our soldiers by both unit organized recreational activities and by using a rotation system for them to participate in the 1ATF/MP controlled Vung Tau swim trip programme. (These trips certainly provided an interesting challenge for the nominated escorting/duty officer at times particularly on the convoy trip "home".)
From the early days the Unit involved itself in the 1ATF Civil Affairs programme largely for orphanages and village schools. Much of the work of manufacturing and placing playground equipment, desks, blackboards etc was done voluntarily in the limited spare time available
When I left 106 Fd Wksp, the unit was a vibrant functioning entity within 1 ATF. Through the direction of both OCs, we were able to concentrate our energies on supporting our customer units to the full extent of our capacities and expertise and looking after our soldiers welfare. Some of the niceties and constraints of Australian home based procedures were supposedly there to be followed were sensibly left locked in the cupboard.
I have only good memories of the time I spent there - working with great people, gaining the experience that I carried into later years and as I felt I made a good fist at a job for which I initially had absolutely no experience.
---
Doug Kerr, 102 Fd Wksp and then 106 Fd Wksp 1968/1969 comments
Out of interest, couple of years back I re-visited the Nui Dat location of 106 Fd WKSP. Not hard to find once you locate SAS Hill and the strip.
Just drive down along the old strip to the end where the PX was (it is not possible to land an aircraft on the strip today since the Nogs have built houses/dwellings on the tarmac) and turn right along the original track that is in good condition. Proceed along to the 'Y' junction, bearing right, proceed a short distance to a another 'Y' junction, then bear right again and you are there.
The 106 Fd WKSP site is farm land and open space now with a number of identifying features still in existence.
Would be a great spot to have a BBQ one day. Possibly a venue to hold the 40th anniversary of 106 Fd WKSP in year 2008. (Pollies might give us some money to offset the travel - lets face it they have given us bugger all so far.
Doug Kerr
---