Memoirs of a Proud Unit

"ARTE ET MARTE"
"With Skill and Fighting"
The armourers, accomplishing the knights,
With busy hammers closing rivets up,
Give dreadful note of preparation.
          King Henry V. Act iv. Prologue.
106 Field Workshop, RAEME was added to the Order of Battle on 14th October 1968 as a reinforcement for 1st Australian Task Force, a brigade sized fighting formation, whose primary Area of Operation was Phuoc Tuy Province, Republic of South Vietnam.
The Unit was raised in response to an urgent need to improve battle worthiness and damage recovery of the Task Force's fighting equipment and became operational on 1st November 1968, taking over from 1st Armoured Squadron Workshop, RAEME. The Unit was located at the Task Force's Operational Base at Nui Dat, alongside those of the Armoured Squadron, where it established a repair facility and from where it deployed, as needed, forward repair and recovery elements throughout the Task Force Area of Operations. The Unit withdrew to Wodonga, Australia on the 1st September 1971 where it disbanded. 106 Fd Wksp RAEME was re-raised at Coopers Plains, Brisbane, then moved to Enoggera, where the unit was reorganized as an ARA/ARES unit, 104/106 Wksp Coy.
Who We Were
the way we were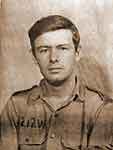 Logan K.H.
the way we were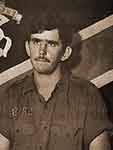 Lord G.J.
A Unit comprises those who served and a Unit finds success and wins respect in their strength, conviction and sacrifice. 106 Field Workshop, during its operational service in South Vietnam, was just such a Unit. There were 545 of us from three Corps who served in this Unit during it's deployment on active service in South Vietnam.
We were Regulars, National Servicemen, and Reservists with engineering skills to suit the Army's needs. Most of us were from the Royal Corps of Australian Army Electrical and Mechanical Engineers but were supported by our comrades from the Royal Australian Army Ordnance Corps, the Royal Australian Army Medical Corps and the Australian Army Catering Corps
our main job
M113 turret overhaul
our other job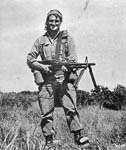 patrol machine gunner
As RAEME engineers, our primary mission was to ensure that arms and equipment were sufficiently battleworthy to enable the Task Force to successfully conduct its operations. This included recovering damaged equipment from the battlefield. We operated from the workshop site in the Operational Base at Nui Dat but deployed forward repair and recovery teams with, and in close support of, the fighting echelons wherever required.
As a combatant service, we reinforced Task Force Operational Base defence sectors depleted by the forward deployment of fighting units; we defended Forward Operation Bases for units otherwise engaged; we were actively involved in the Task Force Area of Operations patrolling program, supplying reconnaisance and fighting patrols.
tour of site
Sunset over Rowe's Lagoon — (Lagoon constructed by the Constr Sqn)
at ease — out and about
Damage to Baria Theatre — Tet68
click the REFRESH or RELOAD button of your browser to change pictures
We are proud of what we achieved. It was done with a lot of heart, sweat and sacrifice and with great regard for those we supported. For us who served, it was a unique and bonding experience. Whatever our background and whatever fate has dealt each of us since that time, we remain united as comrades, altered for all time by this shared adventure.
On this Website you can see our records and that of our experiences.
The service details of those who went to Vietnam can be seen in the Nominal Rolls section.


Details of the Unit's mission, organisation and operation and the environment, political and geographical, are contained in the Unit section


The other sections are made up from contributions from Unit members in the form of stories and photos.


As you peruse these pages, if you find anything that may be incorrectly recorded, or you are able to add actual history, please contact: RAEME Assoc. Qld.
We dedicate this site to those comrades we have died, to those who loved and supported us, to our children and grand children, and to those who will tread a similar path in Service to the Corps, the Army and the Nation.